Anthony Pescetti
Republican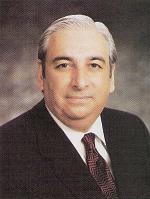 CA Blue Book 2000
| Date | Party | Office | Votes | Result |
| --- | --- | --- | --- | --- |
| 11-03-1998 | Republican | AD-10 | 67535 | Win |
| 11-07-2000 | Republican | AD-10 | 92196 | Win |
Candidate Biography:
Anthony Joseph Pescetti, Sr.
Born: May 2, 1951
Married: Kathy Riffel
Children: Anthony Jr. and Sarina
Previous: Member, Sacramento Municipal Utility District (2 terms)
2001: Minority Caucus Chair, California State Assembly
200?-Present: President, Auburn Dam Council
PLACENAME: The Anthony Pescetti Community Room is located at the Galt Police Station.
Budget Vote (2001): One of the long-lived apocryphal stories of the Capitol relates to four Republican Assemblymembers who voted for the budget in 2001. Two, Mike Briggs (who ran for Congress) and Richard Dickerson (who ran for State Senate), were defeated in their 2002 primary elections and two others, David Kelley and Anthony Pescetti, declined to run again.
Source: California Blue Book (2000)