Richard "Dick" Dickerson
Republican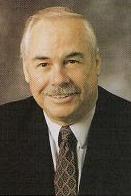 CA Blue Book 2000
| Date | Party | Office | Votes | Result |
| --- | --- | --- | --- | --- |
| 11-03-1998 | Republican | AD-02 | 71357 | Win |
| 11-07-2000 | Republican | AD-02 | 104614 | Win |
Candidate Biography:
Born: July 7, 1937 in Leadville, Colorado
Married: Betty
Children: Two
Military Service: ARMY
Died: September 30, 2014 in Redding, CA
1986-1993: Commander, Shasta Interagency Narcotics Task Force (SINTF)
1993-1998: Member, Shasta County Board of Supervisors
1996: Delegate, Republican National Convention
2000: Alternate Delegate, Republican National Convention
2002: Primary Candidate for SD-04 (Lost; 43.4%)
2004-2012: Member, Redding City Council
2012: Candidate for Redding City Council (Lost)
Budget Vote (2001): One of the long-lived apocryphal stories of the Capitol relates to four Republican Assemblymembers who voted for the budget in 2001. Two, Mike Briggs (who ran for Congress) and Richard Dickerson (who ran for State Senate), were defeated in their 2002 primary elections and two others, David Kelley and Anthony Pescetti, declined to run again.
PLACENAME: ACR 53 (2015) by Brian Dahle designated a portion of State Highway Route 44 in the City of Redding (between East Street and Victor Avenue) as the Richard "Dick" Dickerson Memorial Highway.
Source: California Blue Book (2000)