Brian D. Dahle
Republican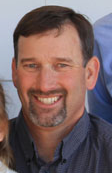 Candidate Biography:
Brian Dwain Dahle
Born: September 20, 1965 in Redding, CA
Married: Megan (m. 1999)
Children: Chase, Reagan, and Roslyn
1997-2012: Member, Lassen County Board of Supervisors
2017-2018: Minority Leader, California State Assembly
2019: Resigned from the State Assembly on June 12.
LEGISLATION: Author of ACR 53 (Res. Chapt. 134, Stats of 2015) which designated a portion of State Highway Route 44 in the City of Redding as the Richard "Dick" Dickerson Memorial Highway.
REMOTE VOTING: One of ten legislators (all Republican Senators) who have attended a floor session remotely using teleconferencing equiptment (August 28-31, 2020).
Source: Biography on Lassen County website (accessed 3/8/2012)