George Runner
Republican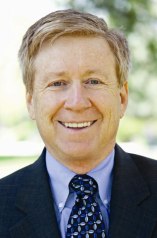 CA BOE
Candidate Biography:
George Cyril Runner, Jr.
Born: March 25, 1952 in Scotia, New York
Married: Sharon Runner (m. 1973, d. 2016), Pamela L. Jessup (m. 2017)
Children: Micah and Rebekah
1992-1995: Member, Lancaster City Council
1995-1996: Mayor, City of Lancaster (Lancaster's first popularly elected Mayor)
2004-2009: Minority Caucus Chair, California State Senate
2008: Opponent, Proposition 1A [High Speed Rail Bonds] (Passed; 52.6%)
2010: Resigned from the State Senate on December 21.
2012: Delegate, Republican National Convention
LEGISLATION: Author of Proposition 83 (2006) which implemented strict laws regarding sex offenders.
LEGISLATION: Author of Proposition 6 (2008), which provides for various gang prevention, rehabilitation, and penalty measures.
LEGISLATIVE HISTORY: George and Sharon Runner were the first married couple to serve in the legislature concurrently (in different houses).
Source: California Blue Book (2000)