Dave Cogdill
Republican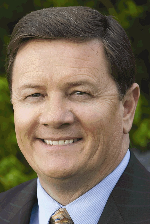 Maddy Institute
Candidate Biography:
David Ellis Cogdill
Born: December 31, 1950 in Long Beach, CA
Married: Stephanie
Children: David Jr. and Meghan
Military Service: ANG
1971-1977: Clerk Typist, Mono County Assessor's Office
1977-1979: Chief Appraiser, Mono County Assessor's Office
1975-1979: Member, Bridgeport Fire Protection District Board of Directors
1991-1995: Member, Modesto City Council
1996-1997: Member, Modesto City Council
2008-2009: Minority Leader, California State Senate
2008: Delegate, Republican National Convention
2009: Early Primary Candidate for SD-14 in 2010 (Withdrew)
2010-2012: Chairman, the Kenneth L. Maddy Institute (CSU Fresno)
2010: Proponent, Proposition 18 [Water Bond] (Rescheduled to 2012)
2011-2013: Assessor, Stanislaus County
AWARD: Winner (with Darrell Steinberg, Karen Bass, and Mike Villines) of the Profile in Courage Award from the John F. Kennedy Library Foundation (2010).
LEGISLATION: Author of SB X7 2 (2009), "The Safe, Clean, Reliable Drinking Water Supply Act of 2010", a $11.1 billion Bond which was scheduled to appear on the November 2010 ballot as Proposition 18, that would fund the creation of a large channel to transport water to Southern California. It is expected that this would be the largest infrastructure project in California in 50 years.
NOTABLE NO VOTE (Expanded Local Pension Benefits): Cogdill was one of 7 State Assemblymembers (and 14 legislators overall) who voted against AB 616 (2001) by Tom Calderon, which created allowed California cities, counties and special districts to offer retirement benefit factors up to 3% at age 60. These higher benefit factors led to severe unfunded pension liabilities in a number of cities a decade later.
Source: California Legislature Handbook (2001-02)
Source: "Emanuel honors its top cardiac care fund-raisers", Modesto Bee (11/21/2010)