Karen Bass
Democratic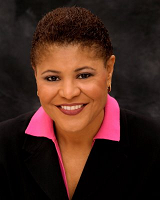 CA State Assembly
Candidate Biography:
Born: October 3, 1953 in Los Angeles, CA
Married: Jess Lechuga (div.)
Child: Emilia Wright (d. 2006)*
University: University of Southern California (Public Administration, 199?; MSW, 2015)
Previous: Member, Los Angeles City Council Ad Hoc Committee on Gangs, Youth and Violence
1990-2003: Founder and Executive Director, Community Coalition
1993: Woman of the Year (48th Assembly District) [selected by Marguerite Archie-Hudson]
2006-2008: Majority Leader, California State Assembly
2008-2010: Speaker, California State Assembly
2016: Delegate, Democratic National Convention
2022: Resigned from the United States House of Representatives on December 9.
2022-Present: Mayor, City of Los Angeles
AWARD: Winner (with Darrell Steinberg, Dave Cogdill, and Mike Villines) of the Profile in Courage Award from the John F. Kennedy Library Foundation (2010).
In February 2007, Karen Bass announced the creation of the Emilia Lechuga-Bass Civil Rights Internship.
Bass was the first female African American to lead a legislative house in the US.
Source: California Legislature Handbook (2005-06)
Source: "Biographical Directory of the United States Congress, 1774-Present" (U.S. Library of Congress) [http://bioguide.congress.gov/]