Paul Cook
Republican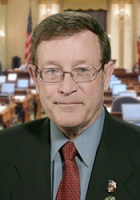 CA State Assembly
Candidate Biography:
Paul Joseph Cook
Born: March 3, 1943 in Meriden, Connecticut
Married: Jeanne
Children: Two
Military Service: USMC (Vietnam)
1998-2006: Member, Yucca Valley Town Council
2001: Mayor, City of Yucca Valley
2006: Mayor, City of Yucca Valley
Previous: Executive Director, Yucca Valley Chamber of Commerce
2008: Alternate Delegate, Republican National Convention
2020: Resigned from the United States House of Representatives on December 7.
2020-Present: Member, San Bernardino County Board of Supervisors
During his twenty-six years in the Marine Corps, he was awarded the Bronze Star and two Purple Hearts.
CLOSE CONTEST: Cook narrowly won a spot in the 2012 General election when he defeated Phil Liberatore by 240 votes (0.3%).
Source: California Legislature Handbook (2007-08), (2011-12)