Earl S. Smittcamp
Republican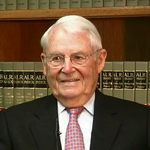 CSU Fresno
| Date | Party | Office | Votes | Result |
| --- | --- | --- | --- | --- |
| 11-08-1960 | Republican | AD-33 | 30275 | Loss |
| 11-03-1970 | Republican | SD-16 | 54986 | Loss |
Candidate Biography:
Born: May 5, 1918 in Frenso, CA
Married: Muriel (in 1940)
Children: Robert, Carol, Betsy, and Bill
Military Service: USMC (WWII)
Died: October 20, 2014 in Clovis, CA
1940s-2014: Owner, Wawona Frozen Foods
1967-2014: California Disaster Acting Governor #6
1969: Participant, White House Conference on Food and Nutrition
1970-1972: Member, California State Board of Agriculture
1971: Chairman, Federal Farm Credit Board
1976: Member, U.S. Advisory Committee on Regulatory Programs
At his time of death, Smittcamp had spent 47 years and two months in the line of succession to the Governor, longer than any other person in California history.
In June 2014, Lisa Sondergaard Smittcamp was elected Fresno County District Attorney.
Muriel Smittcamp was a 2005 Woman of the Year (Selected by Senator Chuck Poochigian)
Bob Smittcamp was a 2016 and 2020 Delegate to the Republican National Conventions.
Source: "AFFI elects new officers, directors at annual meeting" in Frozen Food Digest (April-May, 2005)
Source: "Smittcamp matriarch dies at age 92" by Tim Sheehan, Fresno Bee (10/9/2009)
Source: "Earl Smittcamp, founder of Wawona Frozen Foods in Clovis, dies at 96" Fresno Bee (10/20/2014)