Shannon Grove
Republican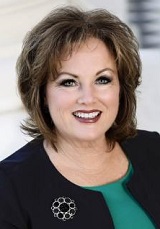 shannongroveforassembly.com
Candidate Biography:
Shannon Lee Grove
Shannon Lee Cain
Shannon Lee Smith
Born: March 18, 1965 in Bakersfield, CA
Married: Rick Grove (m. 2007)
Children: Taryn, Kristin, Payden, Ricki and Kylie
Military Service: ARMY
2012: Proponent, "Citizen Legislature Now Initiative" [Initiative 1566] (Failed to Qualify)
2019-2021: Minority Leader, California State Senate
2020: Member, Governor's Task Force on Business and Jobs Recovery
2020: Candidate for Presidential Elector for Donald Trump (Lost)
According to our research, Grove was the first female California state legislator to have served in the military. Another, Lucy Killea, was not actually in the military but served as a civilian employee of the Army in a stateside Military Intelligence unit during World War II.
OPEN GOVERNMENT: In August 2011, Grove was one of the first three legislators to release their office budgets to the public. Freshman Republicans Tim Donnelly, Grove, and Kristin Olsen released up-to-date reports of their expenditures after Rules Committee chair Nancy Skinner declined to release the current reports, citing the Legislative Open Records Act (LORA).
REMOTE VOTING: One of ten legislators (all Republican Senators) who have attended a floor session remotely using teleconferencing equiptment (August 28-31, 2020).
Source: California Legislature Handbook (2011-12)