Grover Cleveland
Democratic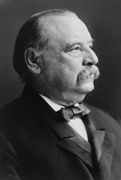 Library of Congress
| Date | Party | Office | Votes | Result |
| --- | --- | --- | --- | --- |
| 11-04-1884 | Democratic | President | 89288 | Loss |
| 11-06-1888 | Democratic | President | 117698 | Loss |
| 11-08-1892 | Democratic | President | 118151 | Win |
Candidate Biography:
Born: March 18, 1837 in Caldwell, New Jersey
Married: Frances Folsom Cleveland
Died: June 24, 1908 in Princeton, New Jersey
1881-1882: Mayor, City of Buffalo [New York]
1882-1885: Governor of New York
1885-1889: President of the United States
1893-1897: President of the United States
The only President elected to two non-consecutive terms.
California is home to seven schools named for President Cleveland; six elementary schools (in Lakewood, Oakland, Pasadena, San Francisco, Santa Barbara, and Stockton) and one High School in Reseda. Also, Cleveland National Forest was named for the President in 1908. [Source:

1000 California Place Names

by Erwin G. Gudde]
US Currency: Grover Cleveland appeared on a "Presidential $1 Coin" that was issued in 2012. Cleveland also appeared on the $1000 bill issued 1928-1934.