George Stoneman
Democratic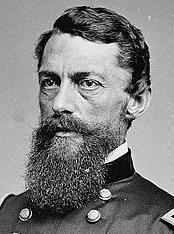 Library of Congress
| Date | Party | Office | Votes | Result |
| --- | --- | --- | --- | --- |
| 09-03-1879 | Workingmen | RC-03 | 35518 | Win |
| 11-07-1882 | Democratic | Governor | 90694 | Win |
Candidate Biography:
George C. Stoneman
Born: August 8, 1822 in Busti, New York
Married: Mary Oliver Hardisty (m. 1864)
Children: Cornelius, George Jr., Katherine Cheney and Adele
Military Service: ARMY (Mexican-American War, Yuma War, Civil War)
Died: September 5, 1894 in Buffalo, New York
1848-1849: Commander, San Francisco Presidio
1886: [Democratic] Primary Candidate for Governor (Lost)
1873: Los Angeles branch President, Veterans of the Mexican War
1876-1878: California State Commissioner of Transportation
1878-1879: Indian Commissioner
High Rank: Major General (United States Army)

As a cadet at West Point, Stoneman's roommate was Thomas "Stonewall" Jackson. Others in his class included George McClellan and George Pickett.

Stoneman was a career military officer, with a career spanning four decades, two wars, and a three month stay as a POW in the notorious Confederate prison at Andersonville (he was the highest ranking Union POW of the war). While attending West Point, his roommate was Stonewall Jackson (a major Confederate general).

Lyrical Reference:

Stoneman was referenced in th. 1969 song

"The Night They Drove Old Dixie Down" by The Band, which focuses on the hardships that Stoneman imposed on the South at the end of the Civil War. The song was covered by Joan Baez in 1971 and Johnny Cash in 1975. Rolling Stone magazine ranked it as the 245th greatest song of all time.

PLACENAME: Stoneman Elementary in San Marino was named for the Governor. It was merged with another school in the 2000s. Camp Stoneman was a US Army base used as a major staging area for Pacific-bound troop shipments during WWII and Korea. Leroy Greene was temporarily stationed at Camp Stoneman prior to his deployment to Japan in 1945.
An incumbent who lost their party primary (in 1886).