Hugh M. Burns
Democratic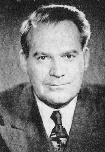 CA Blue Book 1954
Candidate Biography:
Hugh Morrison Burns
Born: February 25, 1902 in Arizona Territory
Married: Wilma
Child: Collene Draklich
Died: November 26, 1988 in Sacramento, CA
1940: Member, Assembly Investigating Committee on Interference With the Legislature ("Call Committee")
1943-1970: Member, Senate Fact-Finding Committee on Un-American Activities
1953-1970: Chair, Senate Fact-Finding Committee on Un-American Activities
1957-1969: President pro Tempore, California State Senate
1970: Primary Candidate for Secretary of State (Lost)
1970-1976: Member, Alcoholic Beverage Control Appeals Board
FATHER OF THE CODE: Burns and Edwards Fletcher authored SB 958 (1943), which established the California Government Code.
LEGISLATION: Author of the Burns Porter Act of 1959 (also known as the California Water Resources Bond Act of 1959; was a bond issue to fund the creation of the State Water Project). Burns is remembered as a father of the State Water Project.
Burns was the second longest serving President pro Tem of the Senate, second in tenure only to Arthur H. Breed Sr
SPECIAL HOLIDAY: On August 24, 1964 (with both the Governor Brown and Lt. Governor Anderson out of state), Burns became the Acting Governor of California. In this role, he proclaimed the date to be Governor's Day and invited friends and coworkers to celebrate the "holiday". The resolution noted that "all friends and fellow employees who join with me in this celebration are hereby ordered not to return to their duties of labor this day as such would seriously impair the success of this event."
ACTING GOVERNOR: In 1968, both Governor Ronald Reagan and Lt. Governor Robert H. Finch traveled to Florida for the Republican National Convention. In their absence, Senator Burns (a Democrat) was the Acting Governor for the week between August 3rd and August 10th. During his time as Acting Governor, Burns signed 225 bills into law and then adjourned the legislative session by executive proclamation (the first time the Governor had ended a session since Governor Stoneman ended a special session in 1886). In the note informing Burns of his temporary elevation, Reagan noted "Have fun; the state has never been in better hands." Upon his return, Reagan granted Burns with the title "Governor Emeritus of the State of California in recognition of his outstanding and decisive service to the people and urge all Californians to pay Governor Burns the honor and respect befitting this high office." [Source]
PLACENAME: The Hugh Burns State Building is located at 2550 Mariposa Mall in Fresno.
QUOTABLE: Regarding the legalization of abortion, "I do not believe it is my duty to legalize a practice which is fundamentally wrong."
Source: California Blue Book (1958), (1963)
Source: "Assembly Investigating Committee on Interference With the Legislature" printed in the Journal of the California State Assembly, 1st Ex. Session of 1940 (pages 870-889)
Source: "Reagan praises Burns as Acting Governor" by Henry C. MacArthur, Highland Park News-Herald & Journal, Number 69, 29 August 1968