Glenn M. Anderson
Democratic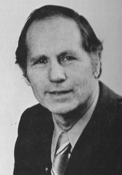 CA Blue Book
Candidate Biography:
Born: February 21, 1913 in Hawthorne, CA
Married: Lee Dutton Anderson
Children: Three
Military Service: ARMY (WWII)
Died: December 13, 1994 in Los Angeles, CA
1940-1942: Mayor, City of Hawthorne
1950: Chair, California Democratic Party
1959-1967: Chairman and Member, State Lands Commission
1961-1967: Member, Board of Trustees of California State Colleges
In WWII, Anderson "waived legislative deferment in 1943 to join Army as a private, discharged as Infantry sergeant."
PLACENAME: Route 105 from Route 1 to Route 605 was officially named the "Glenn Anderson" Freeway in 1987.
PLACENAME: The Glenn M. Anderson Federal Building is located in Long Beach.
Source: California Blue Book (1946), (1963)
Source: "Biographical Directory of the United States Congress, 1774-Present" (U.S. Library of Congress) [http://bioguide.congress.gov/]