James L. Flournoy
Republican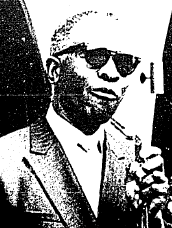 titanyearbook.com
| Date | Party | Office | Votes | Result |
| --- | --- | --- | --- | --- |
| 11-06-1962 | Republican | SBOE4 | 1293057 | Loss |
| 11-03-1970 | Republican | Secretary of State | 2926613 | Loss |
| 11-02-1982 | Republican | Controller | 2776973 | Loss |
Candidate Biography:
Born: December 12, 1915 in Como, Texas
Married: Lovelia Johnson, Marilyn
Children: Alicia Haynes, George Jackson, and James F. Etienne Jr.
Died: February 21, 2009 in Moreno Valley, CA
Previous: Co-Founder, California Black Republican Council
1971-197?: Member, Workmen's Compensation Appeals Board
1974: Primary Candidate for Controller (Lost)
1983: Deputy Director, California Department of Motor Vehicles
Flournoy became the first African-American nominated for partisan statewide office in California in 1970. In the same election, Wilson Riles became the first African American to be elected to statewide office, winning the nonpartisan post of Superintendent of Public Instruction.