Herbert C. Jones
Republican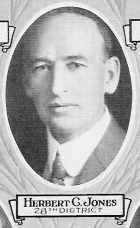 CA Blue Book (1913-15)
Candidate Biography:
Herbert Coffin Jones
Born: September 20, 1880 in Oskaloosa, Iowa
Married: Pauline Wells Jones
Children: Elizabeth Kroeber and Barbara Cassin
Died: March 21, 1970 in Santa Clara, CA
1904-190?: Staff, Santa Clara County Clerks Office
1925: Candidate for Senate President Pro Tem (Lost; 10 to 29)
1930s: Member, Hester Grammar School District Board
1930s: President, Agnew State Hospital Board of Trustees
1934: Republican Primary Candidate for Governor (Lost)
19??: Primary Candidate for CD-28 (Lost)
FATHER OF THE CODE: Jones, H. C. Nelson, and George W. Rochester authored SB 18 (1931), which established the California Probate Code.
Jones is not related to Herbert C. Jones (1918-1941), who was a US Navy officer who was awarded the Medal of Honor for his efforts to rescue fellow sailors on the USS California during the Pearl Harbor attack.
Source: California Blue Book (1911), (1928)
Source: "JONES TO SEEK TO BE GOVERNOR," Madera Tribune (9/20/1933)