Ken Cooley
Democratic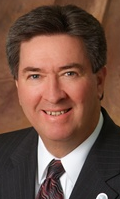 cityofranchocordova.org
Candidate Biography:
Kenneth William Cooley
Born: March 18, 1953 in Berkeley, CA
Married: Sydney
Children: Philip C. and Bryce S.
1977-1985: Chief of Staff, Assemblyman Lou Papan
1988-1991: Chief Counsel, Assembly Banking and Insurance Committee
1991-2008: State Counsel, State Farm Mutual Auto Insurance Company
2002-2012: Member, Rancho Cordova City Council
2002: Primary Candidate for AD-10 (Lost; 36%)
2005: Mayor, City of Rancho Cordova
2007-2009: Member, Alfred Alquist Seismic Safety Commission
2009-2012: Principal Consultant, State Senate Committee on Banking, Finance, and Insurance
2010: Mayor, City of Rancho Cordova
2012: Legislative Director, Senator Ron Calderon
2012: Early Primary Candidate for AD-08 (Withdrew)*
2020: Delegate, Democratic National Convention
2020: Proponent, Proposition 18 [Permit 17-year-olds to Vote in Primary and Special Elections] (Failed; 44%)
Cooley filed as a candidate for AD-08 in August 2011. He withdrew from the race when Assemblywoman Alyson Huber (after redistricting) announced that she would seek the seat. Cooley reentered the race on December 13th after Huber announced that she was withdrawing from the race for personal reasons.