Katcho Achadjian
Republican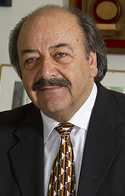 Candidate Biography:
Khatchik Hratchia Achadjian
Born: June 2, 1951 in Lebanon
Married: Araxie
Children: Hratch and Nyri
University: CalPoly San Luis Obispo (BS; Business Administration)
1992-1998: Director, Mid State Fair Board
1998-2010: Member, San Luis Obispo County Board of Supervisors
2006-2010: Member, California Coastal Commission
2016: Primary Candidate for CD-24 (Lost; 18.9%)
FLUENCY: Assemblyman K. H. Achadjian speaks five languages; Armenian, Lebanese, French, Turkish and English. This might be the most of any California legislator; Assemblyman George B. Bowers spoke four (English, Spanish, German, and Malayan) and Assemblyman E. C. Tully who was fluent in three (English, French and Spanish), although Tully also read and wrote in Italian and Portuguese, "and has some knowledge of German and Latin."
UNACKNOWLEDGED API: This elected official was excluded from the "History of Asian Americans in the California Legislature" by the California Asian Pacific Islander Legislative Caucus, although this person is Armenian-American and Armenia is in Asia (Source).
Source: "New lawmakers descend on the Capitol" by Torey Van Oot, Sacramento Bee (December 5, 2010)
Source: California Legislature Handbook (2011-12)