Albert Muratsuchi
Democratic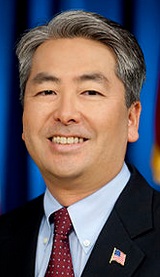 Candidate Biography:
Albert Yasuro Muratsuchi
Born: September 4, 1964 on Okinawa [US*]
Married: Hiroko Higuchi
Child: One daughter
1990: CORO Fellow
Previous: Member, Torrance Planning Commission
2006-2012: Member, Torrance Unified School District Board of Trustees
2009-2012: Deputy Attorney General, State of California
2010: Early Primary Candidate for AD-53 (Withdrew)
When Muratsuchi was born on Okinawa, it was administered by the United States Civil Administration of the Ryukyu Islands. In 1972, Okinawa was returned to Japan.
Bills: During his time in the Legislature, Muratsuchi introduced 35 regular session bills, of which 14 were signed into law.
CLOSE CONTEST: David Hadley narrowly won the 2014 General election when he defeated Muratsuchi by 706 votes (0.6%).
Source: Biography at CauseUSA website [causeusa.org] (accessed 5/24/2012)