Albert Muratsuchi
Democratic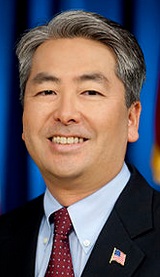 Candidate Biography:
Albert Yasuro Muratsuchi
Born: September 4, 1964 on Okinawa, Japan [US administration*]
Married: Hiroko Higuchi
Child: One daughter
1990: CORO Fellow
Previous: Member, Torrance Planning Commission
2006-2012: Member, Torrance Unified School District Board of Trustees
2009-2012: Deputy Attorney General, State of California
2010: Early Primary Candidate for AD-53 (Withdrew)
2020: Delegate, Democratic National Convention
LEGISLATION: Author of AB 1782 (2018) which established surfing as the official state sport. (Chapt. 162, Stats of 2018)
At the time Muratsuchi was born on Okinawa, it was administered by the United States Civil Administration of the Ryukyu Islands (1950-1972). In 1972, control of Okinawa was returned to Japan.
CLOSE CONTEST: David Hadley narrowly won the 2014 General election when he defeated Muratsuchi by 706 votes (0.6%).
Source: Biography at CauseUSA website [causeusa.org] (accessed 5/24/2012)