Sharon Quirk-Silva
Democratic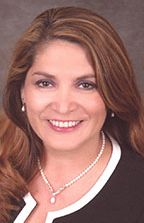 ci.fullerton.ca.us
Candidate Biography:
Born: September 17, 1962 in Los Angeles, CA
Married: Shawn Quirk (m. 1985, div. 2006), Jesus Silva* (m. 2008)
Children: Molly, Catherine, Patrick and Jack Ryan
2002-2003: Member, Fullerton Community Services Commission
2004-2012: Member, Fullerton City Council
2007-2008: Mayor, City of Fullerton
2007: Woman of the Year (34th Senate District) [selected by Lou Correa]
2011-2012: Mayor, City of Fullerton
CLOSE CONTEST: After election night 2018, Quirk-Silva lead Coronado by 4182. By November 8th, this grew to 4540.
Jesus Silva is a member of the Fullerton City Council (2016-Present) and was previously a member of the Fullerton Parks and Recreation Commission (2012- 2016).
Source: Biography at campaign website [sharonquirksilva.com] (accessed 4/4/2012)
Source: Biography at City of Fullerton website [ci.fullerton.ca.us] (accessed 4/4/2012)