Lorena Gonzalez
Democratic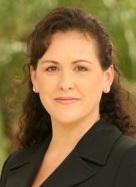 votelorena.com
Candidate Biography:
Lorena Sofia Gonzalez
Born: September 16, 1971 in Oceanside, CA
Children: Tierra and Antonio
2000-2006: Senior Advisor, Lieutenant Governor Cruz M. Bustamante
2000-2006: Alternate Member (Lt. Gov), State Lands Commission
2006: Special Election for San Diego City Council (Lost)
2006-2013: Secretary/Treasurer, San Diego and Imperial Counties Labor Federation
2016: Delegate, Democratic National Convention
LEGISLATION: Author of AB 1024 (2013) which permits immigrants in the United States illegally to become licensed attorneys in California. It's worth noting that this bill was signed into law less than five months after Gonzalez was elected to the Assembly.
No Pie for Danny: Gonzalez apparently didn't feel that Danny Martinez and Alex Vassar were entitled to pumpkin pies on June 4, 2015.