Tom Lackey
Republican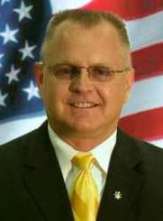 tomlackeyforcouncil.com
Candidate Biography:
Thomas William Lackey
Born: March 12, 1959 in Boron, CA
Married: Theresa (m. ~1991, div. 2018), Linda Sue Miller (m. 2019)
Children: Justin and Jani
1985-2013: Sergeant, California Highway Patrol
1999-2005: Member, Palmdale School District Board
2005-2014: Member, Palmdale City Council
2012: Primary Candidate for AD-36 (Lost; 32.0%)
Eagle Scout (1976)
CLOSE CONTEST: Steve Fox narrowly won a spot in the 2012 General election when he defeated Lackey by 365 votes (0.9%).
While he was serving on the Palmdale School District in 2000, an attempt was made to recall Lackey in retalliation for changing the district's school schedule and increasing the salary of the district's Superintendent. The recall failed to qualify.