Jay Obernolte
Republican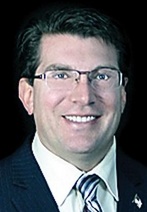 Candidate Biography:
Jay Phillip Obernolte
Born: August 18, 1970 in Chicago, Illinois
Married: Heather (m. 1996)
Children: Hale and Troy
2005-2010: Member, Big Bear City Airport Board of Directors
2010-2014: Member, Big Bear Lake City Council
2014: Mayor, City of Big Bear Lake
2016: Delegate, Republican National Convention
LEGISLATION: Author of AB 2 (2017) which would add "peace officer" to the list of actual and perceived characteristics to determine if a criminal act is a hate crime. (Died in Assembly Public Safety)
OUCH: On January 16, 2019, Obernolte was struck by a car while crossing a street in Sacramento. His injuries included a bruised leg and a laceration on his forehead.
CLOSE CONTEST: Obernolte narrowly won a spot in the 2014 General election after defeating Michelle Ambroziac by 462 votes (1.1%).
Heather Obernolte was also a 2016 and 2020 Delegate to the Republican National Convention and a Regional Vice Chair of the California Republican Party (2020).
Source: California Assembly Handbook (2015)
Source: "Assemblyman Obernolte on mend after being hit by car" by Rene Ray De La Cruz (1/17/2019) https://www.vvdailypress.com/news/20190117/assemblyman-obernolte-on-mend-after-being-hit-by-car