Sabrina Cervantes
Democratic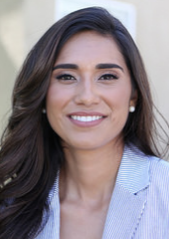 cervantesforassembly.com
| Date | Party | Office | Votes | Result |
| --- | --- | --- | --- | --- |
| 11-08-2016 | Democratic | AD-60 | 77404 | Win |
| 11-06-2018 | Democratic | AD-60 | 0 | Win |
Candidate Biography:
Born: October 24, 1987 in Riverside Co, CA
Previous: Director, California Voter Registration Project
2012-2016: District Director, Assemblymember Jose Medina
CLOSE CONTEST: In 2018, at the end of election night (November 6th), Cervantes held a thin 3-vote lead over Essayli. By November 8th, Essayli gained the lead by 176 votes. On November 9th, Cervantes led again by 369 votes. On November 10th, her lead grew to 688 votes and on the 11th, Cervantes expanded her lead to 699 votes. On November 12, Cervantes' lead dropped by six to 693. On November 13th, Cervantes grew her lead to 945.