Jose Medina
Democratic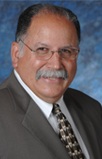 medinaforassembly.com
Candidate Biography:
Born: March 29, 1953 in San Jose, CA
Married: Linda
Children: Jennifer and Matthew
Previous: Member, Jurupa Unified School District Board
1996: Delegate, Democratic National Convention
This is not the Jose Medina who served on the San Francisco County Board of Supervisors (1997-1999), as Director of CalTrans (1999-2000), and on the California Integrated Waste Management Board (2000-2004).
Jose Medina attended high school in the Panama Canal Zone.
In mid-November 2018, Medina was diagnosed with Guillain-Barre syndrome. His physical therapy and treatment precluded him from attending the first session for 2019-20 Regular Session and he was sworn into office on December 5th.
Source: California Assembly Handbook (2015)