Arlen F. Gregorio
Democratic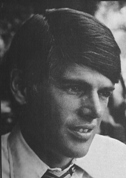 CA Blue Book
Candidate Biography:
Arlen Foster Gregorio
Born: September 11, 1931 in San Francisco, CA
Married: Donna Prentice
Children: John, Stephen, and Arlen
Military Service: USN
Previous: Assistant City Attorney, City of San Bruno (eight years)
Previous: Member, San Mateo County Board of Supervisors (five years)
Later: Superior Court Judge pro tem
After being convicted of bribery charges that came from the Shrimpscam investigation, State Senator Alan Robbins commented on the honesty demonstrated by Gregorio; "Probably the best example I know of a legislator who refused special- interest money is the former state Sen. Arlen Gregorio, who represented San Mateo and Santa Clara counties from 1970 to 1978. Gregorio refused to accept any contributions over $100. As a result, he was ostracized by his colleagues, who sat on their hands when it came to raising money for him until it was too late and he was defeated for re-election. "
Source: California Blue Book (1971), (1975)