Richard E. "Dick" Floyd
Democratic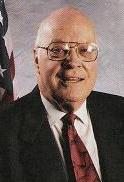 CA Blue Book (2000)
Candidate Biography:
Born: February 3, 1931 in Philadelphia, Pennsylvania
Children: Lorene and Rikki
Military Service: ARMY (Korea)
Died: August 11, 2011 in Sacramento, CA
1970s-1980: Chief of Staff, State Senator Ralph C. Dills
2000: Primary Candidate for SD-25 (Lost; 30.1%)
LEGISLATION: Author of AB 7 (1991), which made helmets mandatory for motorcycle riders in California.
LEGISLATION: Author of AB 650 (1983), which created the California Vietnam Veterans Memorial. This memorial was dedicated on December 10, 1988.
Floyd was noted for smoking cigars on the Assembly Floor during sessions. After a confrontation with Assemblywoman Follette, a Sacramento Bee posed a question; "Asked how long he had been smoking his trademark cigars, Floyd answered, 'Since I was 9.'"
Source: California Blue Book (2000)
Source: California Assembly Handbook (1981)
Source: "Assemblyman Dick Floyd, 80, carried bill on motorcycle helmets" by Dan Walters, Sacramento Bee Capitol Alert (8/13/2011) [LINK]
Source: "SMOKING ASSEMBLYMAN 'S SMOKING HAS COLLEAGUE FUMING " by Jon Matthews, Sacramento Bee (5/19/1987), p. A6