Sheridan Downey
Democratic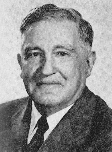 CA Blue Book (1950)
| Date | Party | Office | Votes | Result |
| --- | --- | --- | --- | --- |
| 11-06-1934 | Democratic | Lieutenant Governor | 1002832 | Loss |
| 11-08-1938 | Democratic | Senate3 | 1372314 | Win |
| 11-07-1944 | Democratic | Senate3 | 1728155 | Win |
Candidate Biography:
Born: March 11, 1884 in Laramie, Wyoming Territory [now Wyoming]
Married: Helen Symons
Children: Five
Family: Brother of Stephen W. Downey
Died: October 25, 1961 in San Francisco, CA
1950: Resigned from the United States Senate on November 30.
Resigned due to ill health.
Downey's grandson, Sheridan Downey III, was appointed to the Fair Political Practices Commission by Attorney General Bill Lockyer. His term was 2001-2005.
PUBLISHED: Downey wrote a number of books including

Onward America

(1933),

Pensions or Penury?

(1939), and

They Would Rule the Valley

(1947).
Source: "Biographical Directory of the United States Congress, 1774-Present" (U.S. Library of Congress) [http://bioguide.congress.gov/]