Tom Berryhill
Republican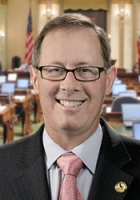 CA State Assembly
Candidate Biography:
Born: August 27, 1953 in Ceres, CA
Married: Loretta
Children: Jessica and Samantha
Family: Son of Clare L. Berryhill and brother of Bill Berryhill
University: CalPoly San Luis Obispo (Ag Business, 1976)
Died: August 29, 2020 in Modesto, CA
Previous: District Representative, State Senator Dick Monteith
Previous: Stanislaus County Fundraising Chairman, Governor Pete Wilson
Previous: Committee Chairman, Attorney General Dan Lungren
2019-2020: Member, Stanislaus County Board of Supervisors
2019-2020: Member, State Compensation Insurance Fund Board of Directors
In a 1996 interview, Berryhill indicated that he thought that his 1996 loss to Dennis A. Cardoza (by 66 votes) happened because Bob Dole conceded the Presidential race before the California polls closed. - Source: Recordnet.com
Had a brother who served in the same legislative house concurrently.
HEALTH: Berryhill received a heart transplant in May 2011. In December 2006, Berryhill became the first heart transplant survivor to serve in the California state legislature. At least two legislators from other states have had heart transplants; Georgia State Senator Carl Harrison (in 1987) and Florida State Representative Don Reed (in 1995).
HEALTH: According to the 2017-18 Senate Journal, Senator Berryhill last attended a Senate session on May 31st. Berryhill was excused from attending session on June 4-7th for personal business and then, for illness, for all Senate sessions between June 11, 2018 and the end of session (August 31st). It was later reported that he had broken his hip on July 1st, and was diagnosed with Parkinson's disease in August 2018.
Berryhill served as the Chair of the Senate Agriculture Committee from January 12 to January 19, 2011. On January 13th, Senate Pro Tem Darrell Steinberg announced that he would be removing Berryhill from the committee in response to comments Berryhill had made [regarding the ability of Democrats to pass a majority budget]; "This is really not our problem... The Democrats own this, and we think that they should be giving us what the solutions are."
Source: California Legislature Handbook (2007-08)
Source: "Berryhill leaves hospital, - is sworn in as supervisor" by Ken Carlson, Modesto Bee, January 10, 2019, p. 1A