Dan Lungren
Republican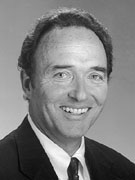 vote98.ss.ca.gov
Candidate Biography:
Daniel Edward Lungren
Born: September 22, 1946 in Long Beach, CA
Married: Barbara "Bobbi" Kolls (Lungren)*
Children: Jeff, Kelly, and Kathleen
University: University of Southern California
1969: Staff, U.S. Senator George Murphy [California]
1970: Staff, U.S. Senator Bill Brock [Tennessee]
1971-1972: Staff, Republican National Committee
1974-1979: Delegate, California State Republican Conventions
1986: Early Primary Candidate for US Senate (withdrew)
2008: Delegate, Republican National Convention
2008: Candidate for House Minority Leader (Lost)
Lungren is one of three individuals to be refused confirmation by the Legislature following appointment by a Governor to fill a vacant statewide office. His appointment as Treasurer (following the death of Jesse Unruh) was approved by the Assembly but rejected by the Senate.
CLOSE CONTEST: Lungren won the 1990 General Election when he defeated Arlo Smith by 10,906 votes (0.2%).