Laughlin E. Waters
Republican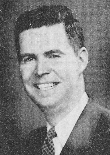 CA Blue Book
Candidate Biography:
Laughlin Edward Waters, Sr.
Born: August 16, 1914 in Los Angeles, CA
Married: Voula (m. 1953)
Children: Laughlin Jr., Maura, Deirdre, Megan and Eileen
Family: Son of Frank J. Waters Sr., and brother of Frank J. Waters Jr.
University: University of Southern California (JD; 1947)
Military Service: ARMY (WWII)
Died: June 3, 2002 in Los Angeles, CA
1945-1946: Deputy Attorney General, Attorney General Robert W. Kenny
1953: Resigned from the State Assembly on July 30.
1953-1961: U.S. Attorney of the Southern California District
1966: Early Primary Candidate for Governor (Withdrew)
1976-1990s: Justice, Federal Court of Appeals for the Central District of California
Waters was the judge in a 1996 trial which convicted Richard Schwartz and former Secret Service officer Randolph Espinosa of selling memorabilia with the forged signature of Ronald Reagan.
According to his Los Angeles Times obituary by Myrna Oliver, Waters was an infantry officer "who led a rifle company onto Utah Beach in Normandy on D-Day."
Source: California Blue Book (1950), (1954)
Source: "Laughlin E. Waters, 87; U.S. District Judge and Politician" by Myrna Oliver, Los Angeles Times (6/6/2002)