George G. Crawford
Republican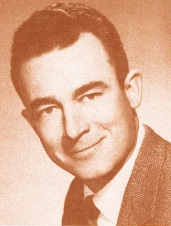 When Surrender Was Not an Option
| Date | Party | Office | Votes | Result |
| --- | --- | --- | --- | --- |
| 11-06-1956 | Republican | AD-79 | 40924 | Win |
| 11-04-1958 | Republican | AD-79 | 34590 | Win |
Candidate Biography:
George Goeddel Crawford
Born: August 9, 1920 in San Diego, CA
Married: Esther Fitzenmeyer (in 1943)
Children: Toni Diane and Cheryl Anne
Military Service: ARMY (WWII), USAF
Died: October 31, 2012 in San Diego, CA
Previous: Assistant City Prosecutor, City of San Diego
1960: Resigned from the State Assembly on February 15.
1960-1972: Justice, San Diego Municipal Court
1973-1974: President, American Judges Association
PUBLISHED: Was a coauthor of the book When Surrender Was Not an Option.
During a WWII bombing mission, Crawford's B-24 bomber was shot down over Klagenfurt, Austria in March 1944. He was held as POW at Stalag Luft III for 14 months. The co-pilot on the flight was Burt Talcott, later a Congressman from Monterey. Crawford wrote about their incarceration in the book "When Surrender Was Not an Option."
Although he was a Republican running against an incumbent Democratic Assemblymember, Crawford was endorsed by Pat Brown in 1956.
Source: California Blue Book (1958)