Burt L. Talcott
Republican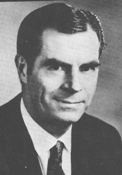 California Blue Book
Candidate Biography:
Born: February 22, 1920 in Billings, Montana
Married: Lee Talcott
Child: Burt and Ron*
Military Service: ARMY (WWII)
Died: July 29, 2016 in Tacoma, Washington
1954-1962: Member, Monterey County Board of Supervisors
1986: Associate Deputy Administrator for Congressional Affairs, Veterans Administration
2005-2000s: Member, Pierce County Charter Review District
During a WWII bombing mission, Talcott's B-24 bomber was shot down over Klagenfurt, Austria in March 1944. He was held as POW at Stalag Luft III for 14 months. The bombardier on the flight was George C. Crawford, later an Assemblyman from San Diego, who wrote about their incarceration in the book "When Surrender Was Not an Option."
Ron Talcott is married to Gigi Talcott, a Washington State Representative from 1992 to 2006 (Majority Whip from 1994 to 1998).
Source: "Biographical Directory of the United States Congress, 1774-Present" (U.S. Library of Congress) [http://bioguide.congress.gov/]