Walter M. "Walt" Ingalls
Democratic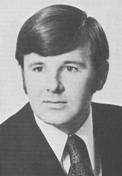 CA Blue Book
Candidate Biography:
Walter Monte Ingalls
Born: October 17, 1944 in Hemet, CA
Died: July 7, 1991 in Los Angeles, CA
Previous: Deputy District Attorney, Riverside District Attorney's Office
1982-1985: Member, California Transportation Commission
Ingalls was elected to the Assembly in 1972 at age 27.
LEGISLATION: Author of AB 1246 (1976), which created the Los Angeles County Transportation Commission.
LEGAL TROUBLES: In 1987, Ingalls pleaded guilty to a charge of lewd conduct after being arrested in November 1986 at Fairmount Park in Riverside after exposing himself to two plainclothes Riverside police officers.
Source: California Blue Book (1975)
Source: California Legislature Handbook (1973)
Source: "Ex-Assemblyman Cited for Lewd Conduct", Los Angeles Times (11/4/1986)