Terry Goggin
Democratic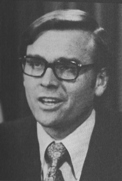 CA Blue Book
Candidate Biography:
Terrence Patrick Goggin
Born: November 8, 1941 in Glendale, CA
Married: Jill Tronvig (in 1963)
Children: Brian, Patrick and Colin
Military Service: ARMY
1969: Special Consultant, White House Urban Affairs Council
1973-1974: Administrative Assistant, Congressman George Brown
1977: Kennedy Fellow, Harvard University
NOTE: An incumbent who lost their party primary (in 1984).
LEGAL TROUBLES: In 2018, a federal grand jury returned an indictment against Goggin of four counts of wire fraud and nine counts of money laundering stemming from an alleged "investment fraud scheme" involving his operation of four Peet's Coffee retail centers in Bay Area Rapid Transit (BART) stations in 2013. If convicted of all thirteen charges, Goggin could be sentenced to a maximum of 170 years in prison. In February 2021, Goggin was sentenced to one year and one day in prison and $685,000 in restitution.
Source: California Blue Book (1975)
Source: California Legislature Handbook (1979)
Source: "Former California State Assemblyman Indicted For Fraud Scheme Involving BART Coffee Shops" U.S. Department of Justice Press Release (11/26/2018)