George Brown
Democratic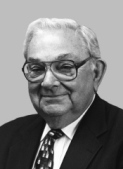 Congressional Pictorial Directory, 106th.
Candidate Biography:
George Edward Brown Jr.
Born: March 6, 1920 in Holtville, CA
Married: Marta Macias Brown
Children: David and Dale Brown; Samuel, Armando and Miguel McQueen and Howard Cincotta
Military Service: ARMY (WWII)
Died: July 15, 1999 in Bethesda, Maryland
1954-1958: Member, Monterey Park City Council
1970: Primary Candidate for US Senate (Lost)
LEGISLATION:

Author of the George Brown Act (1961), which was

"one of the nation's first comprehensive public employee labor relations laws... requiring the public employer to meet and confer with representatives of employee organizations upon request..." (Source:

Collective Bargaining in the Public Sector

)
LEGISLATION:

Coauthor of the Meyers-Milias-Brown Act (1968), which allows all public employees (including municipal employees) to unionize in California.

PLACENAME: Highway 210 in San Bernardino was officially dedicated as the George E. Brown Memorial Freeway in 2007. His widow, Marta Macias Brown, was the first person to drive the freeway.
PLACENAME: In 2000, the U.S. Salinity Laboratory in Riverside was renamed the "George E. Brown, Jr., Salinity Laboratory"
Be Fruitful and Multiply: Brown had six children.
Source: California Blue Book (1961)
Source: "Biographical Directory of the United States Congress, 1774-Present" (U.S. Library of Congress) [http://bioguide.congress.gov/]
Source: Collective Bargaining in the Public Sector: The Experience of Eight States (2001) by Joyce M. Najita, James L. Stern