Tom Lantos
Democratic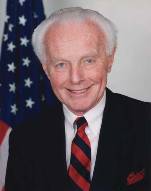 Candidate Biography:
Thomas Peter Lantos
Born: February 1, 1928 in Budapest, Hungary
Married: Annette Lantos
Children: Annette and Katrina*
Died (in office): February 11, 2008 in Bethesda, Maryland
1976: Delegate, Democratic National Convention
1983: Founder, Congressional Human Rights Caucus
2008: Delegate, Democratic National Convention (Lantos died before the convention, a successor has not been chosen)
Lantos was the only Holocaust survivor ever elected to Congress.
Katrina Swett is the wife of Congressman Richard Swett (New Hampshire; 1991-1995) who was a candidate for a US Senate seat from New Hampshire in 1996 (losing narrowly) and the United States Ambassador to Denmark (1998-2001).
AWARD: Presidential Medal of Freedom (2008)
PLACENAME: The highway tunnel at Devil's Slide (in San Mateo County) on Route 1 the "Tom Lantos Tunnel at Devil's Slide".
Source: "Biographical Directory of the United States Congress, 1774-Present" (U.S. Library of Congress) [http://bioguide.congress.gov/]