Charles M. Calderon
Democratic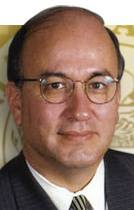 CA Assembly
Candidate Biography:
Born: March 12, 1950 in Montebello, CA
Married: Jeannine (div.), Lisa Rodriguez (m. 1997)
Children: Ian, Matt, and Brennan
Family: Brother of Ronald S. Calderon and Thomas M. Calderon
Previous: Assistant to General Counsel, US Department of Health, Education, and Welfare
1970s?: Legislative Aide, Assemblymember Richard Alatorre
1970s?: Legislative Aide, Assemblymember Jack R. Fenton
Previous: General Counsel, Los Angeles Public Works Commission
Previous: Deputy City Attorney, City of Los Angeles
1979-1982: Member, Montebello School District Board
1982-1990: Special Consultant, Secretary of State March K. Fong Eu
1987: Chair, California Latino Legislative Caucus
1988: Candidate for Assembly Speaker (Lost; 34 to 40)
1990: Resigned from the State Assembly on April 16.
1994-1997: Member, California Judicial Council
1996-1998: Majority Leader, California State Senate
1998: Primary Candidate for Attorney General (Lost; 23.5%)
2006: Commissioner, California Healthcare Commission
2010-2012: Majority Leader, California State Assembly
2012: Delegate, Democratic National Convention
NOTABLE HISTORY: Calderon was the first person to serve as Majority Leader in both houses of the legislature.
LEGISLATION: Author of SB 1959 (Chapt. 682 of 1996) which the L.A. Times described as "the bill that opened the door to payday lending — a short-term, extremely high-interest form of loan that must be repaid in full within a few weeks."
Source: California Legislature Handbook (1983)
Source: "Payday loans are risky enough" an Editorial in the Los Angeles Times (4/24/2011)
Source: "The Judicial Council of California: Membership" by the Judicial Council of California (accessed 5/30/2012)