Ian C. Calderon
Democratic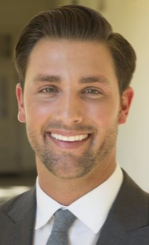 ianccalderon.com
Candidate Biography:
Ian Charles Michael Calderon
Born: October 19, 1985 in Whittier, CA
Married: Elise (m. 2015)
Child: Charlie Nicole, Hartley James, Crew Colson
Family: Son of Charles Calderon, nephew of Tom Calderon and Ron Calderon
2007-2010: Field Representative, State Senator Ed Hernandez
2010-2012: Field Representative, Assemblyman Roger Hernandez
2011-2012: Field Representative, Assemblyman Warren Furutani
2016-2020: Majority Leader, California State Assembly
2016: Delegate, Democratic National Convention
YOUNGEST: Calderon was the the youngest member of the Assembly in 2013 at age 27 until the election of Sebastian Ridley-Thomas (age 26) in December. On March 10, 2016, Calderon became the youngest Assembly Majority Leader in California history (at 30 years, 1 month, and 17 days). The previous recordholder was Walter J. Karabian who became Majority Leader at age 33 (in 1971).
CLOSE CONTEST: Calderon narrowly won a spot in the 2012 General election when he defeated Rudy Bermudez by 337 votes (0.8%).
LEGISLATION: Author of AB 1687 (Chapt. 555, Stats of 2016) which limits the ability of companies like IMDb to publish online the ages of actors. The law was overturned by a U.S. District Court in February 2017.
LEGISLATION: Author of AB 159 (2016) which permits terminally ill patients to petition pharmaceutical companies for access to experimental drugs not yet approved by the Food and Drug Administration. Vetoed.
Source: Biography at campaign Facebook website (accessed 5/24/2012)