March Fong Eu
Democratic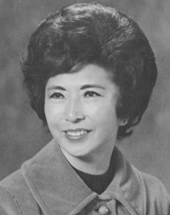 CA Blue Book (1975)
Candidate Biography:
Born: March 29, 1922 in Oakdale, CA
Married: Chester Fong (m. 1967), Henry Eu (m. ~1973)
Children: Matthew Kipling Fong and Marsha Suyin Fong
Died: December 21, 2017 in Irvine, CA
1945-1948: Dental Hygienist, Oakland Public Schools
1956-1966: Supervisor of Dental Health Education, Alameda County Board of Education
1994: Resigned as Secretary of State on February 17.
1994-1996: US Ambassador to Micronesia
2002: Primary Candidate for Secretary of State (Lost; 29.1%)
2003: Filed a Statement of Intention to run for Governor in the Recall (withdrew)
PLACENAME: In March 2019, the Secretary of State's building at 1500 11th Street in Sacramento, was named the March Fong Eu Building to recognize and celebrate her tenure as Secretary of State.
HISTORIC: On July 14, 1976, while the Governor, Lt. Governor, Senate President Pro Tem, and Assembly Speaker were out of the state, Eu became acting Governor (the first woman or Asian-American to serve as Acting Governor).
According to Rutgers, Eu was the first Asian American woman in the United States to be elected to a statewide executive post.
UNACKNOWLEDGED API: This elected official was excluded from the "History of Asian Americans in the California Legislature" by the California Asian Pacific Islander Legislative Caucus (Source).
Source: California Blue Book (1967)