Steve Peace
Democratic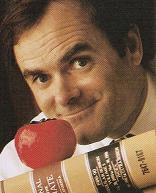 CA Blue Book 2000
Candidate Biography:
J. Stephen Peace
Born: March 30, 1953 in San Diego, CA
Married: Cheryl (in 1974)*
Children: Clint, Bret, and Chad
Previous: Staff, State Senator Wadie Deddeh
Previous: Staff, Assemblyman Larry Kapiloff
1994: Resigned from the State Assembly on January 10.
2002-2003: Director, California Department of Finance
2006?-Present: Lobbyist
2006-Present: Co-Chairman, California Independent Voter Project (with Jeff Marston)
2010: Language Author, Proposition 14 [Top Two Primaries Act] (Passed; 54.2%)
Youngest Member: Peace was elected to the Assembly in 1982 at age 29.
Cheryl Peace served on the California Integrated Waste Management Board from 2003 to 2008.
Legislative Altercation: Shortly after the adjournment of the Senate Appropriations Committee meeting (on September 3rd, 1985), Peace berated State Senator Al Alquist, calling him a "pitiful little creature." Alquist yelled back that "If there is a 14-karat asshole in the Assembly, you are it." Alquist then threatened to have the Senate Sergeant arrest Peace, but no further action was taken.
Source: California Legislature Handbook (1989), (1994)
Source: California Blue Book (2000)