Wadie P. Deddeh
Democratic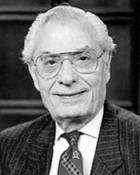 CalAccess website
Candidate Biography:
Born: September 6, 1920 in Baghdad, Iraq
Married: Mary-Lynn Drake
Child: Peter Charles*
Died: August 27, 2019 in Poway, CA
Previous: Member, Chula Vista Democratic Club
Previous: Political Science Professor, Southwestern Community College
1992: Primary Candidate for CD-50 (Lost)
1993: Resigned from the State Senate on August 17.
2005-2008: Lobbyist, Ellison Wilson Advocacy, LLC
LEGISLATION: Author of AB 69 (1972) which created the California Department of Transportation (Caltrans)
According to a 1993 L.A. Times article about his resignation; "In recent years, Deddeh has weathered controversies about his political and personal finances. Last month he filed for Chapter 11 bankruptcy to prevent foreclosure on several properties."
Peter Deddeh is a San Diego Superior Court Judge who has tried a number of high-profile cases in recent years.
According to the movie "THE Lion's Journey", Deddeh was the first Iraqi to be elected to office in the United States.
PLACENAME: The Wadie P. Deddeh State Office Building in San Diego is home to the CalTrans District 11 office.
UNACKNOWLEDGED API: This elected official was excluded from the "History of Asian Americans in the California Legislature" by the California Asian Pacific Islander Legislative Caucus (Source). Yes, Iraq is in Asia.
Source: California Blue Book (1971)
Source: "THE LION'S JOURNEY: The Story of Wadie P. Deddeh" on IMDB [link]
Source: "Deddeh Says He May Resign State Senate Seat" by Tony Perry, Los Angeles Times (7/31/1993)