Carole Migden
Democratic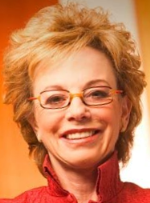 Facebook
Candidate Biography:
Born: August 14, 1948 in New York, New York
Partner: Cristina Arguedas*
Previous: Chair, San Francisco Democratic Party (8 years)
1991-1996: Member, San Francisco Board of Supervisors
2004: Resigned from the Board of Equalization on December 6.
2008: Primary Candidate for SD-03 (Lost; 28.6%)
2008: Delegate, Democratic National Convention
2008-2010: Member, California Integrated Waste Management Board*
2011-2012: Member, California Agricultural Labor Relations Board
LEGISLATION: Author, AB 26 (1999) Defines a domestic partnership as a household relationship between adults of the same sex or opposite-sex partners over the age of 62 and provides for its registration and termination in the state. [Chapter 588/Statutes of 1999]
Her marriage was annulled when the California Supreme Court ruled against gay marriage in "Lockyer v. City and County of San Francisco".
The California Integrated Waste Management Board was abolished by SB 63 (Strickland) in January 2010.
An incumbent who lost their party primary (in 2008).
Source: California Blue Book (2000)