Alex Padilla
Democratic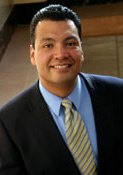 City of Los Angeles
Candidate Biography:
Alejandro Padilla
Born: March 22, 1973 in Panorama City, CA
Married: Angela Monzon (m. 2012)
Children: Two sons (incl. Alejandro Miguel)
1995: Fellow, CORO Fellows Program
Previous: Staff, U.S. Senator Dianne Feinstein
1996: Campaign Manager, Tony Cardenas for State Assembly
Previous: District Director, Assemblyman Tony Cardenas
1997: Campaign Manager, Gil Cedillo for State Assembly
1997-1999: Member, Los Angeles Building and Safety Commission
1998: Campaign Manager, Richard Alarcon for State Senate
1998: Southern California Political Director, Victory '98 (Democratic Coordinated Campaign)
1999-2006: Member, Los Angeles City Council
2001-2020: Member, California Film Commission
2005-2006: President, League of California Cities
2009-2010: Chair, Gavin Newsom for Governor campaign
2012-2013: President, National Association of Latino Elected Officials (NALEO)
2012: Delegate, Democratic National Convention
2016: Delegate, Democratic National Convention
2021: Resigned as Secretary of State on January 18.
LEGISLATION: Author of SB 1298 (2012) which requires the California Highway Patrol to adopt safety standards and performance requirements for autonomous motor vehicles on California's public roads. The bill also permits autonomous vehicles to operate on public roads following the adoption of these standards and requirements. (Chapter 570, Stats of 2012)
In 2019, Padilla was the target of an attempted recall led by Erin Cruz. The recall failed to qualify for the ballot.
Source: Biography on Senate website (accessed 1/1/2010, 3/4/2012)
Source: "California Lawmaker Wants Rules for Robo-Cars" by Chuck Squatriglia, Wired Magazine [website] (2/29/2012)