Mark DeSaulnier
Democratic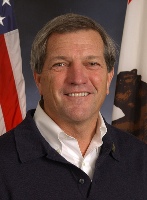 CA State Senate
Candidate Biography:
Mark James DeSaulnier
Born: March 31, 1952 in Lowell, Massachusetts
Children: Tristan and Tucker
1991-1993: Member, Concord City Council
1994: Mayor, City of Concord
1994-2006: Member, Contra Costa County Board of Supervisors
1997-2006: Metropolitan Transportation Commission
1998-2006: Member, California Air Resources Board
2009: Special Election Primary Candidate for CD-10 (Lost; 20%)
2015: Resigned from the State Senate on January 2.
2016: Delegate, Democratic National Convention
Silver Screen: As a member of the California Air Resources Board, DeSaulnier voted against the amendments to the "California Zero Emission Vehicle Regulation" which the movie Who Killed the Electric Car? described as the death of the electric car.
DeSaulnier is one of ten legislators who served in both houses of the California State Legislature since 1990 but never termed out of either.
DeSaulnier suffered a "traumatic rib fracture" while jogging in Washington, DC. in mid-March 2020. On March 13th, he was admitted to a hospital after developing pneumonia, and was reported to be in "serious but stable condition" on March 16th. On March 24th, he was reportedly in critical but stable condition. On April 13th, he was moved out of the Intensive Care Unit (ICU) and was released from the hospital on May 4th.
Source: California Legislature Handbook (2007-08)