George R. Moscone
Democratic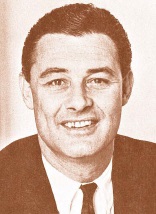 CA Blue Book (1975)
Candidate Biography:
Born: November 24, 1929 in San Francisco, CA
Married: Gina Bodanza (m. 1954)
Children: Jenifer, Rebecca, Christopher and Jonathan
Military Service: USN
Killed: November 27, 1978* in San Francisco, CA
1963-1966: Member, San Francisco Board of Supervisors
1969-1976: Majority Leader, California State Senate
1974: Early Primary Candidate for Governor (withdrew)
1976: Resigned from the State Senate on January 8.
1976-1978: Mayor, City of San Francisco
Assassination in 1978: Mayor Moscone died after being shot by San Francisco Supervisor Dan White, who minutes later shot and killed Supervisor Harvey Milk.
LEGISLATION: Coauthor, The Moscone-Knox Professional Corporation Act (1968). This law permits certain licensed, professional activities to be conducted in the corporate form that at one time were not so permitted--including the practice of dentistry, law, medicine, and accountancy.
PLACENAME: The Moscone Center in San Francisco was named to honor Moscone.
San Francisco is home to Moscone Recreation Center, Moscone Convention Center, George R. Moscone Elementary School.
Silver Screen: Moscone was portrayed by Victor Garber in the movie "Milk" (2008).
Jonathan Moscone has served as Executive Director of the California Arts Council (2022-present).
Source: California Blue Book (1967), (1971)