Roy Fellom
Republican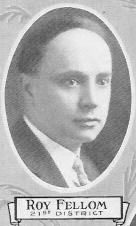 CA Blue Book
Candidate Biography:
Born: March 5, 1885 in San Diego, CA
Married.
Children: Three
Died: September 24, 1952 in San Francisco, CA
During the U.S. Occupation of California, his grandfather, Matthew Fellom, was appointed to serve as judge at San Juan Bautista by Commodore Sloat.
An incumbent who lost their party primary (in 1934).
Source: California Blue Book (1928), (1932)