Toni G. Atkins
Democratic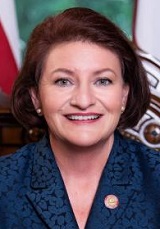 Candidate Biography:
Born: August 1, 1962 in Wythe County, Virginia
Spouse: Jennifer LeSar
199?-2000: Council Representative & Policy Analyst, Councilmember Christine T. Kehoe
2000-2008: Member, San Diego City Council
2001: Organizer, San Diego Medicinal Marijuana Task Force (to implement Proposition 215)
2005: Acting Mayor, City of San Diego
2008: Woman of the Year (39th Senate District) [selected by Christine Kehoe]
2012-2014: Majority Leader, California State Assembly
2014-2016: Speaker, California State Assembly
2016: Delegate, Democratic National Convention
2018-Present: President pro Tempore, California State Senate
FULL HOUSE DROUGHT: The longest period without a floor session that all members attended (all 80 Assemblymembers and all 40 Senators) was 7 years and 11 months between July 10, 2007 and June 1, 2015. Atkins was the presiding officer of the Assembly on the day that the drought ended.
NOTABLE HISTORY: One of only three people to ever serve as the leader of both houses of the Legislature. The others were James T. Farley and Ransom Burnell. At the time Atkins assumes office as Senate President Pro Tem, it will have been 146 years since Farley finished his time in that role.
QUOTABLE: In February 2016, while members of the California Coastal Commission were deciding whether to fire the commission's Executive Director, Atkins tweeted, "Let me apologize to the public. I truly thought my appointees would be better stewards of the coast."
Source: California Legislature Handbook (2011-12)