Toni G. Atkins
Democratic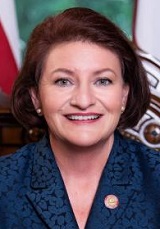 Candidate Biography:
Born: August 1, 1962 in Wythe County, Virginia
Spouse: Jennifer LeSar
199?-2000: Council Representative & Policy Analyst, Councilmember Christine T. Kehoe
2000-2008: Member, San Diego City Council
2001: Organizer, San Diego Medicinal Marijuana Task Force (to implement Proposition 215)
2005: Acting Mayor, City of San Diego
2008: Woman of the Year (39th Senate District) [selected by Christine Kehoe]
2012-2014: Majority Leader, California State Assembly
2014-2016: Speaker, California State Assembly
2016: Delegate, Democratic National Convention
FULL HOUSE DROUGHT: The longest period without a floor session that all members attended (all 80 Assemblymembers and all 40 Senators) was 7 years and 11 months between July 10, 2007 and June 1, 2015. Atkins was the presiding officer of the Assembly on the day that the drought ended.
QUOTABLE: In February 2016, while members of the California Coastal Commission were deciding whether to fire the commission's Executive Director, Atkins tweeted, "Let me apologize to the public. I truly thought my appointees would be better stewards of the coast."
Source: California Legislature Handbook (2011-12)