Susan T. Eggman
Democratic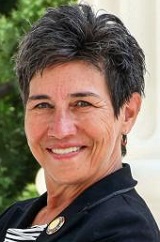 susaneggman.com
Candidate Biography:
Susan Talamantes Eggman
Born: March 3, 1961 in Castro Valley, CA
Married: Renee Hall
Military Service: ARMY
Family: Sister of Michael Eggman
Previous: Member, Stockton Mayor's Blue Ribbon Task Force on Crime
2006-2012: Member, Stockton City Council
2011: Woman of the Year (17th Assembly District) [selected by Cathleen Galgiani]
2016: Presidential Elector
LEGISLATION: Author of AB2X 15 (2015), known as the "End of Life Option Act", which permits adults (who meet certain qualifications) to legally request medication prescribed for the purpose of ending his or her life.
LEGISLATION: Author of AB 2495 (2016) which would create supervised consumption services where addicts could go to use controlled substances (crack cocaine, heroin, etc.) with supervision by medical professionals.
Source: Biography on campaign website [susaneggman.com] (accessed 5/23/2012)
Source: California Birth Index