Devon Mathis
Republican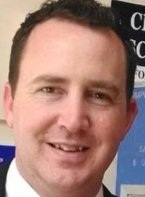 Candidate Biography:
Devon John Mathis
Born: September 21, 1982 in Porterville, CA
Married: Aubrey Haskill-Mathis (m. 2014)
Children: Luke, Jaxton, Devon John and Maggie and Jefferson (twins)
Military Service: ARMY (Iraq War)
QUOTE: "Veterans are dying on wait lists because some bureaucrat with a calculator and no medical training says it is too expensive, and yet this judge grants a criminal who will spend the rest of his life behind prison walls a sex-change operation... I know Justice is to be blind, I didn't think it was to be insane as well!"
On his second Iraq tour in 2008, Devon was injured in an IED attack, for which he was awarded the Purple Heart. Mathis is the second Iraq War veteran to serve in the Legislature, the first was Nathan Fletcher.
CONNECTION: Mathis received a Kenneth Maddy Scholarship while attending Fresno State in 2012.
His twins were born at 9.5 hours before Mathis was sworn into the Assembly.
Source: California Assembly Handbook (2015)