David Dreier
Republican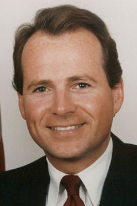 Candidate Biography:
Born: July 5, 1952 in Kansas City, Missouri
1976: Delegate, Republican National Convention
1978-1980: Delegate, California State Republican Conventions
1980: Delegate, Republican National Convention
PLACENAME: The Dreier Main Event Hall at the James L. Brulte Senior Center (Rancho Cucamonga, CA) is named for Dreier.
QUOTE: "We all have different, sometimes radically different, views of how to build a better and stronger America. I have always believed that our efforts must be rooted in our pursuit of a free economy, personal freedom, limited government, and a strong national defense. Others may take a different view. These differences demand a passionate debate, but that debate must ultimately arrive at consensus."
Source: Statement on campaign website [daviddreier.org] (accessed 2/29/2012)